Its that time of the year again... when we get together for a day of Records, Art and BBQ. Its I'm Dat Digga Vinyl Exchange/ Record Show in Orlando, FL. We got record dealers from Florida bringing crates for us to browse thru and buy. We got artists setting up demostrating their work. And lets not forget the BBQ.
All on a Sunday Afternoon.
This time we have an addition to the event, Tha Funk Shop will be hosting a live beat making set followed by a Jam Session, featuring vintage samplers and synths. Everyone is encouraged to bring their gear if they want to help expand the list. We will be jamming out and teaching each other how to use the pieces of gear.
And lets not forget the sounds provided by the one and only DJ Y-NOT http://djynot.blogspot.com.
In short... this is a day of Record, Art, and Gear appreciation. I'm a collector of Records, Vintage gear, Comic books, toys etc. The definition of a Digga. This is our way to give the Community of Orlando an event that brings together different people with different hobbies and interests.
So come out for a Sunday afternoon of Records, Art, Samplers and did i mention BBQ?
PeAcE.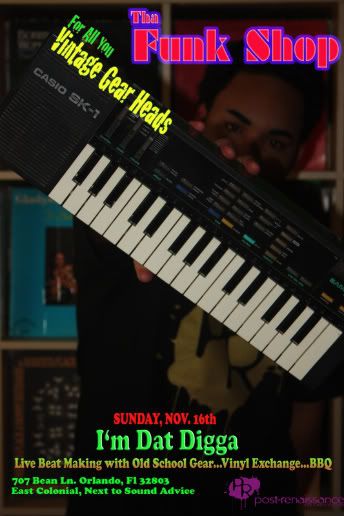 Here are some records i was listening this weekend, thought id post them up, didnt find a digital copy online.
Click on the Picture to download
Disclaimer: The records posted are straight off the record, so the quality is not the best. Also i try to only post albums which do not have a digital copy of for purchase. Its all for the Love of sharing the Music.
ONe L
Also click on the music tab on the right for more downloads.